The present report explores selected recognized trends and anticipated changes in transportation, technology, climate, natural and human environment and discusses the challenges and opportunities for mainstreaming biodiversity in the transport sector. These trends refer to technological advancements, nature based solutions, invasive species, climate change adaptation, and cumulative effects, socio-psychological and economic-demographic constraints. The essays are based on broad literature research involving scientific and non-scientific publications, websites, blogs and governmental communications, and reflect the view of the authors and contributors but not necessarily the opinion of the entire BISON team. They shall provide inspiration and a base for the development of the future research agenda.
Twice as much road and rail infrastructure in 2050
If business as usual is to prevail, we are likely facing a world with twice as much road and rail infrastructure in 2050 than in 2010, populated by two billion personal vehicles and significantly deteriorated living conditions, lack of natural resources and failing ecosystem services in an uncontrollably changing climate. But there is still a chance to avoid such a scenario.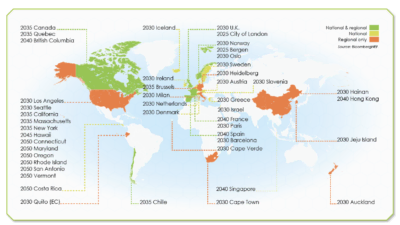 Government phase-out targets for vehicles with internal combustion engines. Redrawn after BloombergNEF (2021).
For sustainable transport, there is a need for stronger governance
The transport sector in particular is undergoing fundamental changes that can have far reaching repercussions humans and nature. These changes are enabled by recent advances in vehicle, energy and communication technologies, but are primarily triggered by the apparent need to mitigate and adapt to climate change. Sustained biodiversity is not a driving force behind these changes nor their goal, but rather a potential side effect. Nevertheless, these changes offer many opportunities to create a more sustainable, equitable, cleaner and energy efficient transport system that helps protecting biodiversity and human values. Tools are available to deal with long-term cumulative effects on nature and society, to employ nature based solutions for integrating infrastructure in ecosystem services, and to control biological consequences of climate change such as the spread of invasive species. However, to accomplish this change, we may need a stronger governance and more ambitious, aligned policies, and cross-sector collaboration. It also needs new regulatory frameworks, economic incentives and support (chapter 7) and a swift implementation of mitigation measures. There is urgency in choosing the right path, but the decision requires both insight and acceptance at the very individual and personal level . The general public as well as stakeholders and political leaders, must be willing to change attitude and behaviour – and it is here where the greatest obstacles may reside.
Reducing the demand for (unnecessary) transport in exchange for increased accessibility
In essence, key objectives for a sustainable transportation in a warming climate nay be: a) reducing the demand for (unnecessary) transport in exchange for increased accessibility, and b) including non-transport related values in a holistic and long-term transport planning that favours both people and biodiversity.
In essence, the key actions that can break the historic trend and lead toward a sustainable transport sector must hence be broad and comprehensive:
reducing the demand for (unnecessary) mobility and instead aim for increased accessibility of resources,
including non-transport related and non-monetary values in a holistic long-term planning that favours both people and biodiversity,
internalising external long-term and cumulative costs of transportation for society and environment (e.g., polluter-pays principle).