Identification and description of current good practices for mainstreaming biodiversity in existing and future transport infrastructures
One of the objectives of the BISON project is to collect information on the relevant technologies, methods, processes, and tools currently applied in each country participating in the BISON project, in order to identify good practices in mainstreaming biodiversity in transport and to promote their replication. This report presents the methodology and process used in the BISON project to evaluate and weight information collected and thus identify good and best practices among those currently implemented in the participating countries. To do this, surveys were conducted with key stakeholders in both sectors (biodiversity/transport) in each participating country. The report focuses on the criteria and principles that were defined and that will be used for the identification of good practices, their evaluation by experts and the establishment of a list of relevant best practices.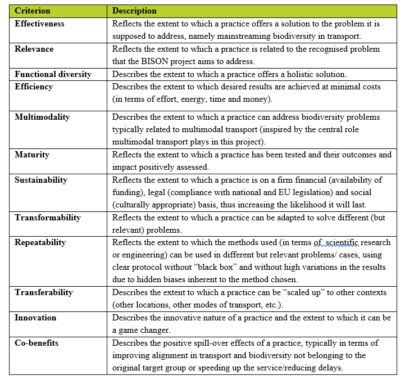 The evaluation will be conducted with the participation of external experts, through a dedicated survey. This survey will be based on the MAMCA (multi-actor multi-criteria analysis) methodology , through which (1) the weighting of the evaluation criteria will be established, and (2) the evaluation of the good practices will be finalised (again using the weighted evaluation criteria). This will result in a final list of best practices. The MAMCA methodology used in this study is an extremely useful model for complex decision-making processes.
Finally, an analysis of the gaps and barriers that create obstacles to the implementation of these practices will be carried out in coordination with the work and information processed by Working Groups 4 and 5 of the BISON project, in order to provide research and technology transfer-based solutions to overcome the barriers and move forward.